TARIFA MAX KITESURFING SCHOOL...SINCE 1998
Tarifa Max Kitesurfing School has been giving kite surfing courses since 1998 making us one of the most experienced schools with proven techniques to ensure you learn to kitesurf quickly, safely and with a lot of fun.
#springtimeoffer
12 hours kitesurf group course (max. 4 people per group) and 7 nights accommodation in a newly renovated charming apartment in the heart of the old town in Tarifa, Andalusia, Spain.
340€ per person (including cleaning charge)
*2 people minimum
Call us on +34 696 558 227 to make a reservation or
contact
us via email info@tarifamax.net
We teach in all the following languages:
Welcome to Tarifa Max Kitesurfing where you will find IKO kitesurfing instructors and accommodation packages in Tarifa, the most southern point of Spain; the kite surfing Mecca of the Northern Hemisphere.
We offer all year round tailor-made kitesurfing courses and accommodation packages to suit any budget and any group size.
Whether you're a complete beginner, up and riding or a certified Pro, we can accommodate you and your needs.

"Dynamic team of instructors"
They had me up and kitesurfing within a few days. The entire Tarifa Max crew is full of energy, laughter and talent. They set me up with a room in a great apartment owned by a local windsurfer and at a cheap rate. If you want an unforgettable experience on and off the water go there. I had an incredible week...Ashley Burke

"Wonderful Time"
My 14 YO son and I flew from San Francisco to learn to kiteboard and what a great experience we had, from our wonderful instructor Roman, who never showed anything but encouragement whenever this 53 year old man did something not so smart to genuine excitement when my son got up for the first time. The owner Matthew put us up with a lovely family, who welcomed us with open arms. We can only say great things about the school, equipment, all of the instructors, the owner and the town is great. Kind regards, Erik July 2013
| | | | |
| --- | --- | --- | --- |
| | | | |
| Learn to rig, launch and control 4 line kite | Control and take power with kite in the water. | Learn and practice the waterstart and start riding. | Go and have some fun! |
Our packages include instruction for beginners to intermediate riders, who need a confidence boost, as well as equipment rental, supervision and advanced coaching from our team riders to help you nail whatever trick you've been working on.
Book a week course for as little as 285€
| | | | |
| --- | --- | --- | --- |
| | Find us on Facebook for the lastest info & some great offers.. | | At the end of your kite lesson you'll get your own official IKO card. |
Have a look at the photos of the courses day by day and get all the news in our new blog:
http://kiteschooltarifa.blogspot.com.es/
Where to find us...
We are based in the STOP shop
on the main street Calle Batalla del Salado no. 84 in front of the Repsol petrol station.
You can also find us in the Mala Mujer Living shop
just 20 metres on also on the main street Calle Batalla del Salado in front of the Repsol petrol station.
We offer a daily free shuttle service to the beach from our premises in the STOP shop in town to ensure you get to the beach as quickly and easily as possible.
Don't just think about it...do it!! And let the Tarifa Max Kitesurfing team take care of the details. More info...
Special offer course 18h/h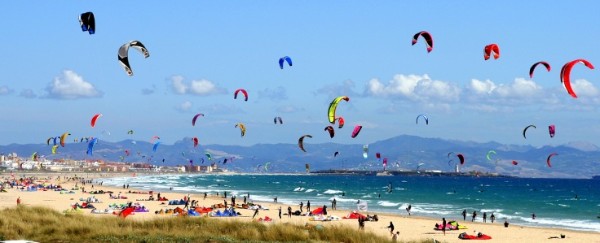 You can find us on Need2Kite for more information about our school and Tarifa.
See you on the beach!
---
For any more information contact us: +34 696558227 info@tarifamax.net