Tarifa Max Kitesurfing School has been giving kite surfing courses since 1998 making us one of the most experienced schools with proven techniques to ensure you learn to kitesurf quickly, safely and with a lot of fun.
Address: Tarifa Max Kitesurfing, Calle Batalla del Salado no. 92 (Sirocco Café), Tarifa, Cadiz, Spain GPS: 36°01'08.9"N 5°36'32.3"W
Kite house accomodation; Calle Juan de la Cierva n.7, 11380 Tarifa, Spain
We offer a daily free shuttle service to the beach from our premises in the Sirocco Bar in town in front of the petrol station to ensure you get to the beach as quickly and easily as posible.
Don't just think about it...do it!! And let the Tarifa Max Kitesurfing team take care of the details.
OUR COMMITMENT...YOUR INSTRUCTOR WITH YOU IN THE WATER!
The difference with our school is that the instructor will be with you in the water dedicated to achieve the best progession. The teacher will be there to help you with the board giving you the possibility to get up on the board from the start.
Our experience makes the difference! Teaching kitesurfing in Tarifa since 1998!
We have 2 rescue boats at our disposition for everyone to enjoy riding safely....and always on call in Tarifa is the life guard rescue boat from the Red Cross. So, no worries! Just enjoy yourself and let us take care of everything for you.
We teach in all the following languages:
Welcome to Tarifa Max Kitesurfing where you will find IKO kitesurfing instructors and accommodation packages in Tarifa, the most southern point of Spain; the kite surfing Mecca of the Northern Hemisphere.
We offer all year round tailor-made kitesurfing courses and accommodation packages, in our new Kite House, to suit any budget and any group size.
Whether you're a complete beginner, up and riding or a certified Pro, we can accommodate you and your needs.

"Dynamic team of instructors"
They had me up and kitesurfing within a few days. The entire Tarifa Max crew is full of energy, laughter and talent. They set me up with a room in a great apartment owned by a local windsurfer and at a cheap rate. If you want an unforgettable experience on and off the water go there. I had an incredible week...Ashley Burke

"Great expectations, great satisfaction"
I went to Tarifa for a 5 day (20 hours) kitesurfing course with a friend in January. We were both complete beginners, but we had great expectations since we waited a long time for taking this course. On our arrival Mathieu and our instructor Roberto were ready to pick us up and drive to the beach for the first lesson. The course is really well organised, and it gives you all the basics for standing on the board and riding for the first meters, and understanding how to control the kite. Roberto was a great and patient instructor, he was able to teach us the fundamentals of kite always with a positive attitude and, in addition, we had good out of the context chats during the several transfers to and from the beach. Moreover, he was able to give us precious tips about how to proceed with training and whether and how to buy our personal material.
The choice of the kite was always appropriate and optimised depending on the wind conditions, and all the safety measures were highly stressed and explained.
...Thus I deeply recommend Max Kitesurfing School, for the professionality of its staff, for its effectiveness and convenience.
Luca January 2015
| | | | |
| --- | --- | --- | --- |
| | | | |
| Learn to rig, launch and control 4 line kite | Control and take power with kite in the water. | Learn the waterstart and start riding. The instructor will come into the wáter with you. | Go and have some fun! |
Our packages include instruction for beginners to intermediate riders, who need a confidence boost, as well as equipment rental, supervision and advanced coaching from our team riders to help you nail whatever trick you've been working on.
Book a week course for as little as 285€
| | | | |
| --- | --- | --- | --- |
| | Find us on Facebook for the lastest info & some great offers.. | | At the end of your kite lesson you'll get your own official IKO card. |
Where to find us...
We are based in the Sirocco Café, on the main Street of Tarifa, Calle Batalla del Salado n.92, in front of the bus station and the Repsol petrol station.
Have a look at the photos of the courses day by day and get all the news in our new blog:
http://kiteschooltarifa.blogspot.com.es/
Special offer course 18h/h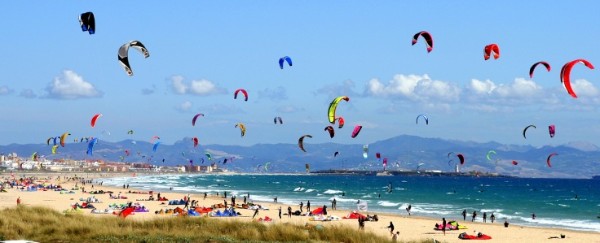 You can find us on Need2Kite for more information about our school and Tarifa.
See you on the beach!
---
For any more information contact us: +34 696558227 info@tarifamax.net